3 Color LED Display Car Parking Reverse Backup Radar 4 Sensor System Black discount hot deal
Features
The Car Parking Sensor consists of ultrasonic sensors, digital control box, and display monitor. This system detects the distance between the car and back obstruction with ultrasonic sensors installed at the rear bumper of car.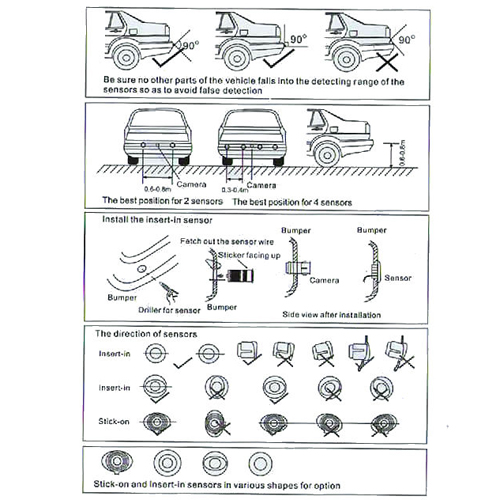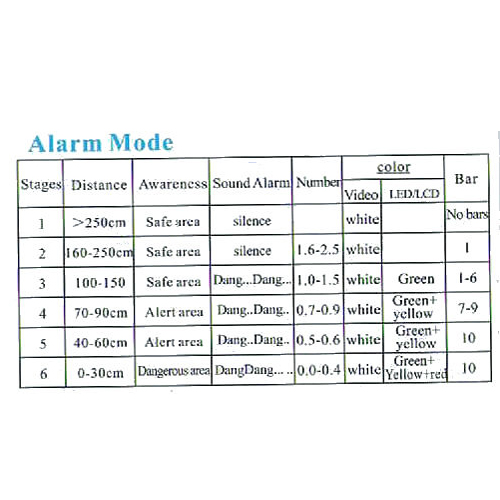 Features:
Double CPU
Self-test function
Detecting distance: 0-2.5m
3 colors LED display
Insert-in and Stick on sensors for option
BiBiBi/DangDangDang or voice indicator
Volume switch.
Easy to install.
4 sensor system and advance chipset for enhanced coverage and detection.
Help to prevent dangerous and costly collisions.
Help to provide increased safety for passengers, pedestrians and family members who happen to be around the moving vehicle.

Specifications:
Rate voltage: 12V
Operation voltage range: 9-16V
Rated current: 20-200mA
Detecting distance: 0-2.5m
Ultrasonic Frequency: 40KHz
Working temperature: -30~70 degree
Display working temperature: -20~60 degree
Sensor color: black
Monitor size: 14cm x 5.5cm x 2.5cm
Main control box size: 9cm x 6cm x 2cm

Package included:
1 x Display Monitor
1 x Main Control Box
4 x Parking Sensor
1 x Power Cable
1 x Saw Drill Head
1 x User Manual





supplied in our online store, now you can enjoy them with the lowest price and first-class quality.