Introducing the Blue Ice, a chilling blue Japanese inspired LED watch from an entropic tomorrow which gives its master below zero Kelvin supremacy by blurring the boundaries of how temporal intelligence (time) is shown.

You mean this watch really tells the time? Yes. Even though the Blue Ice embodies Kamakuran style and Ashikagan design with its soul caliber blue numerals encased in stark samurai sword steel like the last stand against the Vampire Ninja Zombie armada of Planet 4738, this Japanese LED watch does in fact tell the time and does so really efficiently too!

Tap the top button on the right side of the timepiece and watch the screen light up like fireflies over an unholy grave. Tap the bottom button to make the numbers blink and hence adjust them. In Time mode, the top row represents hour information, while the bottom row represents minutes information. In date mode, top and bottom represent month and day.

In fact, when you start wearing this watch you may find yourself spending all your time chasing demons and freeing the countryside from terrors too terrible to speak of. You will probably live by the Bushido code of Rectitude, Courage, Benevolence, Respect, Honesty, Honor, and Loyalty. You'll start reading Kanji and reciting Haiku by Basho such as "an ancient pond / a frog jumps in / the splash of water." Yes, the Blue Ice has been known to lower its wearer's armor class by 20 points, double their points, and divide their THAC0 in two!

Jimi Hendrix (he never died) and Christopher Walken are said to be 9335 owners, as are Rick Astley, Debbie Gibson, and Miami Sound Machine (Gloria Estefan on the other hand does not wear the Blue Ice as she prefers The Andromeda). In reality, this watch is perfect for Top Gun mavericks, Math Olympians, chess club members, Dvorak keyboard users, Unix administrators, anyone who's watched AVP more than 10 times, Twitter users with exactly 3.14 followers, HTC Desire owners, anyone who can sing the entirety of Turning Japanese by The Vapors at karaoke or anybody who is a somebody.

Just google "Japanese LED Watch" to see how much these timepieces sell for online. Notice how they normally retail for close to 10x the price we're selling them for.

Get your Blue Ice LED watch today!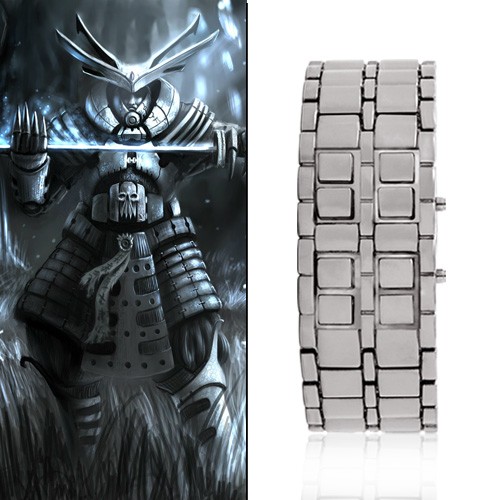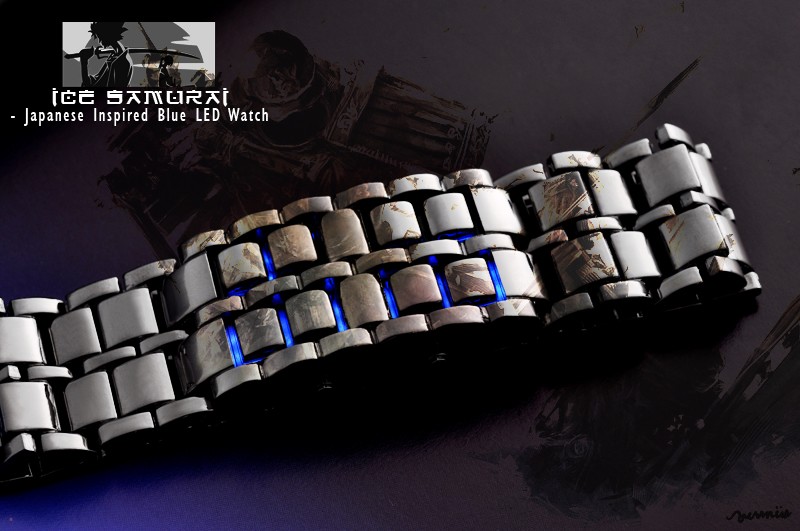 Specifications:
| | |
| --- | --- |
| LED Color | Blue |
| Number of LEDs | 56 |
| Settings | Time, Date, Year |
| Watch Material | Metal |
| Band Material | Metal |
| Wrist Band Length | 180 mm |
| Number of Segments | 18 |
| Clasp | Fold over lock |
| Power | 1 x CR2032 pre-installed |
| Buttons | Top (hour and date display + select), bottom (change mode) |
Accessories:
1 x User Manual
1 x Gift box
FAQ:
Q: How do I change the time, date, day of the week on this watch?
A: Press the lower button on the right side of the watch. This will cause the current setting to blink. Continue pressing the lower button until you arrive at the setting you want to change. Next, press the top button to change the information.

Q: What type of batteries does this watch use?
A: This Japanese LED watch uses two CR2032 watch batteries. Other names this type of battery goes by are button cell, silver button cell, or coin cell batteries.

Q: How long will the batteries last?
A: The batteries should last longer than with a normal watch since time and date information is only displayed when you want.