Introducing the Hot Magma, a lava red Japanese inspired LED watch from an alternative future which gives its wearer cool omnipotence by rewriting the rules of how temporal data (time) should be displayed.

You mean this watch really tells the time? Yes. Even though the Hot Magma embodies Tokugawan style and Shogunate design with its blood red numerals encased in stark samurai sword steel like the final battle between all the forces of good and evil in the multiverse, this Japanese LED watch does in fact tell the time and does so really efficiently too!

Tap the top button on the right side of the timepiece and watch the screen light up like surfacing lava. Tap the bottom button to make the numbers blink and hence adjust them. In Time mode, the top row represents hour information, while the bottom row represents minutes information. In date mode, top and bottom represent month and day.

In fact, when you start wearing this watch you may find yourself spending all your time challenging strangers to duels. You will probably live by the Bushido code of Rectitude, Courage, Benevolence, Respect, Honesty, Honour, and Loyalty. You'll start reading kanji and reciting Haiku by Basho such as "even a horse / arrests my eyes—on this / snowy morrow." Yes, the T09 has been known to increase its wearers' strength, dexterity, constitution, intelligence, wisdom, and charisma by as much as 20 points each! Chuck Norris and Steven Seagal are said to be T09 owners, as is David Bowie and Brian Eno. In reality, this watch is perfect for Presidential dinner crashers, Facebook celebs with over 1000 fans, Youtube directors with over 2,000,000 views, anyone who can play the entirety of Neil Zaza's I'm Alright on electric guitar, iPhone 3Gs owners, or anybody who is a somebody.

Just google "Japanese LED Watch" to see how much these timepieces sell for online. Notice how they normally retail for close to 10x the price we're selling them for.

So don't wait another minute, get your Hot Magma LED watch today!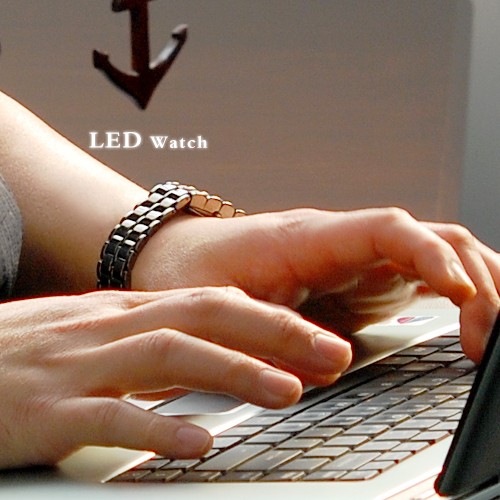 Specifications:
| | |
| --- | --- |
| LED Color | Red |
| Settings | Time, Date, Year |
| Watch Material | Metal |
| Band Material | Metal |
| Wrist Band Length | 180 mm |
| Number of Segments | 18 |
| Clasp | Fold over lock |
| Power | 1 x CR2016 |
| Buttons | Top (hour and date display + select), Bottom (change mode) |
Accessories:
1 x User manual
1 x Gift box
FAQ:
Q: How do I change the time and date on this watch?
A: Press the lower button on the right side of the watch. This will cause the current setting to blink. Continue pressing the lower button until you arrive at the setting you want to change. Next, press the top button to change the information.

Q: What type of batteries does this watch use?
A: This Japanese LED watch uses a single CR2016 watch battery. Other names this type of battery goes by are button cell, silver button cell, or coin cell batteries.

Q: How long will the batteries last?
A: The batteries should last longer than with a normal watch since time and date information is only displayed when you want.