European IUDTV IPTV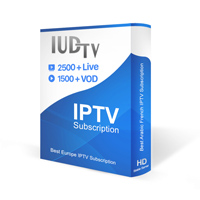 Iudtv has 1700+ full European channels, including Sky UK/DE/IT, Turkish, France, Indian, Russian, Arabic, Portuguese, Spain, Albanian, Netherlands, American, African, Greece, Sweden channels, etc.
-
Iudtv can work with Android device, Enigma2 system, Linux system, Mag25X TV box, KODI, IOS Device, VLC Player and Smart TV.
Onw Year IUDTV       Tips:   1.  We have run new automatically-delivery system. For less than 5 pcs accounts order, we will not add codes...
more info
6 Months Iudtv Italy/Germany/UK IPTV Account Turkish Indian African Channels Support APK  Enigma2 Mag25X M3U       Tips:   1.  We have run...
more info
Iptv 3 Months IT/UK/DE Channels Best Iudtv Server With Turkish Indian African Channels Supports Apk IOS Enigma2 SmartTV       Tips:   1.  We...
more info
---